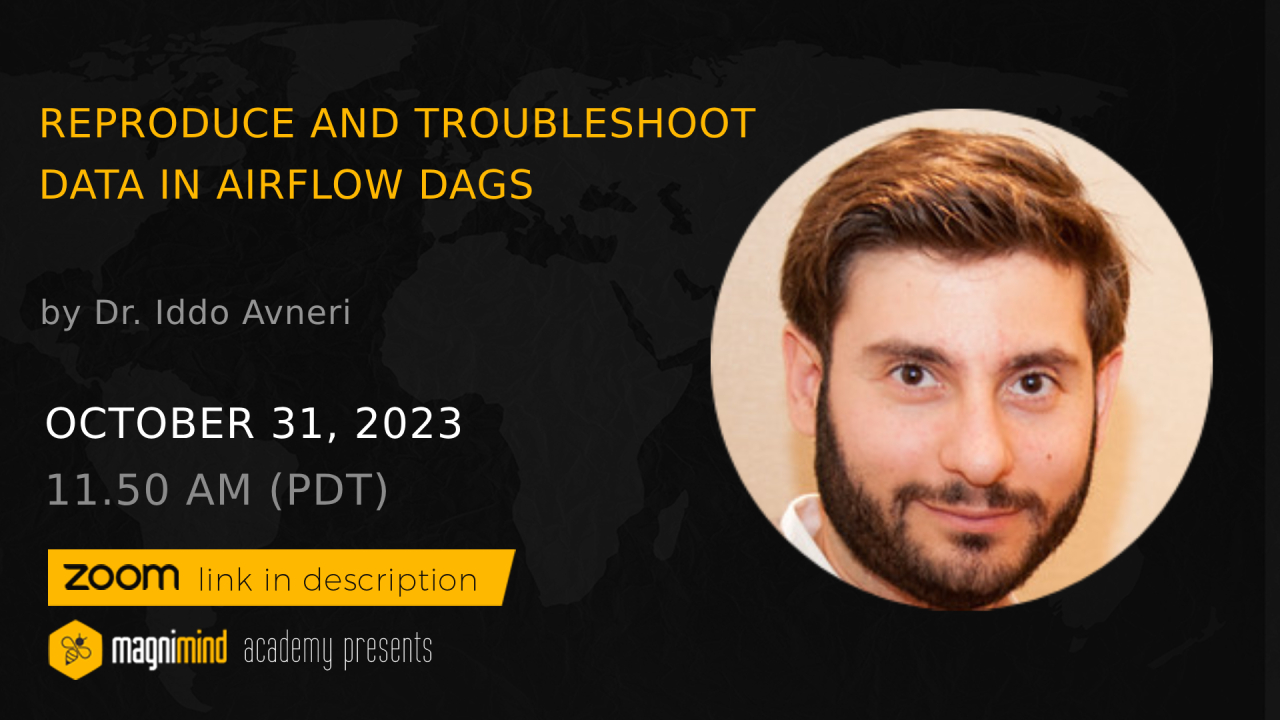 Please register using the zoom link to get a reminder:
https://us02web.zoom.us/webinar/register/4916959091064/WN_ja_vldDDQiehCsSBJNGgSQ
Troubleshooting and fixing failed ETL jobs is a manual error-prone process. The long time it takes to troubleshoot these failed jobs makes the task of ensuring the integrity and availability of data for downstream applications extremely difficult.
An effective way to enable fast recovery in case of failed ETLs is to revert the production data to a consistent state – the state before the failure happened – for improved data availability.
We will be leveraging the open source project lakeFS to track data versions across dag execution at scale for isolated dag executions and quick recovery in case of errors.
Agenda:
(PDT) 11:45 am – 11:50 am Arrival, socializing, and Opening
(PDT) 11:50 am – 1:45 pm Iddo Avneri, "Reproduce and Troubleshoot data in Airflow DAGs"
(PDT) 1:45 pm – 1:50 pm Q&A
About Iddo Avneri:
Iddo Avneri has had a long and varied career in the technology industry. Iddo began their career in 1998 as a Trainer at the IDF Programming School, where they trained the course after completing it with honors. In 2001, they became Head of the Software and Elearning Department for the IDF, where they were in charge of 7 officers and 30 trainers, as well as project management for programming course development. In 2006, they joined OpTier as Director of Presales Technical, where they were responsible for all company proof of concepts and supporting the sales process from early engagements through scoping a pilot and delivering the value needed for the customer. In 2013, they were promoted to VP of Pre-sales and Post-sales at OpTier, which was acquired by SAP. Iddo then joined Turbonomic in 2014, where they were CTO of Financial Services and VP of Presales. In 2021, they joined Treeverse – the company behind lakeFS – as VP of Customer Success. Iddo Avneri obtained a BA in Computer Science and Management from Israel Jobs between 2002 and 2006. Prior to this, they completed a computer technician course from Mahat in 2001, and a programmer course from Mamram – IDF in 1998. Iddo also attended BSMH, although no degree or field of study is specified.
https://us02web.zoom.us/webinar/register/4916959091064/WN_ja_vldDDQiehCsSBJNGgSQ
Webinar Passcode 411424