Introduction
We all know that in today's digital world, content creation helps to promote marketing, providing information, and engaging customers. Content creation has become more efficient and powerful as AI technology has advanced over time. But do you know how AI can exactly create unique and original content? 
In this blog, we examine the potential applications of AI in content creation, including how it may speed up the writing process and provide original content. We will also talk about how AI is already influencing how content is created. Continue reading to discover more about how AI is changing how we produce content.
Understanding AI in Content Creation
In recent years, artificial intelligence has facilitated almost every industry, including content creation. AI helps content producers identify trends and insights that aren't immediately obvious and produce content quickly, effectively, and affordably. Here, we'll look at how AI can be applied to speed up content creation.
AI can assist content producers in comprehending the preferences and requirements of their target audiences. Content producers can rapidly and correctly determine the interests of their viewers and produce content to meet their needs by using AI technologies such as natural language processing,

machine learning

, and deep learning. AI can also be used to find pertinent terms and phrases that can be utilized to make content more visible overall by optimizing it for search engines.
The generation of original and engaging content ideas is a crucial area where AI may be used for content development. AI systems can search through vast amounts of data to find patterns and connect various pieces of content. This can provide content producers new, interesting ideas for content that they might not have come up with on their own.
AI can also be utilised to speed up and reduce the cost of the content development process. Editors can rapidly and efficiently produce a variety of materials by using AI-powered content generation tools. AI-driven solutions can make sure that material is consistent across many platforms, which will make content syndication easier.
AI can help content producers make their content as engaging as possible. The kinds of material that are most likely to result in high levels of reader engagement can be found using AI-based analytic methods. Understanding these tendencies will help content producers produce articles that will draw more users to their websites and raise audience engagement levels generally.
AI's Role in Content Creation
Technology is advancing at a rapid pace day by day in today's world, and The process of creating content is increasingly reliant on artificial intelligence. The potential of AI to automate specific processes and analyze vast volumes of data can help to speed up the content creation process and give content producers the chance to produce more high-quality material.
AI can aid in the identification of potential writing themes, identify subjects that are popular and may be interesting to readers by examining already published information. AI is able to study and analyze enormous volumes of data, giving it valuable insight into the subjects that the target audience is most likely to find interesting. This tool reduces the amount of time in content creation because it allows content creators to save their time by giving the opportunity of getting topics that attach with the readers.
AI assists content producers in choosing the ideal structure for their pieces in addition to helping them uncover prospective topics. AI is capable of analyzing existing content to identify the best methods to organize arguments and make suggestions for improved information presentation. By ensuring that the content is more arranged and easier to read, you may significantly raise the overall standard of the writing.
Finally, by automating some processes, AI contributes to streamlining the content development process. Automation of content editing, proofreading, and formatting is possible with AI. Content producers can save time by automating these procedures so they can concentrate on producing high-quality content.
Automating Content Production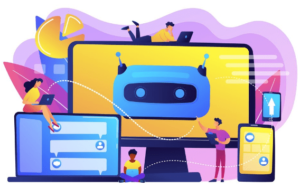 In today's content creation process, artificial intelligence (AI) is being used more and more. AI has the potential to boost content production's effectiveness while also raising the standard of the output. AI can be used to automate content creation in a variety of ways.
One such usage of AI is the processing of natural language (NLP). NLP can be used to create content automatically from sources that already exist. NLP can be used, for instance, to transform an article into a video or a movie into an infographic. NLP can be used to evaluate already-existing content and produce summaries and insights in addition to creating new content. By automating these processes, AI can save time and improve the efficiency of content production.
Computer vision is another application of AI in content creation. By using Computer vision you can generate visuals easily because it helps to generate visuals automatically. You can take an example here, A text description can be used to generate graphics, and audio files can be used to create visuals. This can be utilized to speed up the process of creating images and to make it more interesting for readers and viewers.
AI can also be utilized to increase the content's correctness. To cut down on errors and guarantee the accuracy of the text, automated spell-checking and grammar-checking technologies can be utilized. The tone and emotion of content can also be detected through automated sentiment analysis, enabling more precise and focused communication.
Last but not least, content can be tailored using AI for various target audiences. In order to create more individualized content, automated algorithms can be employed to assess user data and adapt material for various audiences. This makes it easier to guarantee that the information is both meaningful and pertinent to the target audience.
Streamlining Content Writing Processes
In the world of digital marketing today, content development is crucial. In order to attract the interest of their target audience, brands must constantly develop high-quality, interesting content, but doing so efficiently and affordably is a significant problem. The use of AI has the potential to transform workflows and change the way information is created.
The most labor-intensive phase of content development, research, can be automated with AI. Faster turnaround times for content development are made possible by AI algorithms' ability to quickly and accurately sort through massive amounts of data to gather facts and figures for content. Additionally, AI can be employed to create content from scratch, drawing on already-existing data to provide original, pertinent content based on user input.
AI can also be used to tailor material to individual users' tastes. In order to generate personalized content that is catered to a consumer's interests, preferences, and needs, marketers can use user data that they have collected. Brands can easily identify the content that resonates with consumers and change their content strategy by using AI-driven content to track consumer engagement.
The efficiency and speed of content evaluation procedures can both be enhanced by AI. AI-based technologies may check text for flaws and inconsistencies and give feedback to the authors, enabling them to make the necessary corrections precisely and fast. AI tools may also be used to detect plagiarism and rate the quality of material, assisting brands in making sure that only top-notch content is used.
By lowering the amount of manual work necessary, AI can assist simplify the creation of content, freeing up crucial time and resources. With the use of AI-driven tools, brands may be able to produce more high-quality content in a shorter amount of time. AI will become more and more crucial to the processes involved in creating content as it develops and gets better.
Generating Unique Content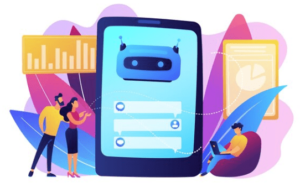 Content creation is an integral part of any modern advertising and marketing strategy. Unfortunately, the process of creating content can be tedious and time-consuming. Automation and AI can help streamline the content creation process and produce more targeted and effective content.
One way AI can be used is to improve the content on your website, but in some cases, AI may be difficult to learn in certain aspects. To help your business expand globally, you can take consultancy from SEO agencies. AI machines can analyze a large number of data points to generate unique content ideas and topics. These topics and ideas can then be used to create original content that is tailored to a specific audience. AI can also be used to generate unique visualizations, such as charts and graphs, which can help bring complex topics to life.
AI can also aid in the improvement of already published content. AI systems are capable of analyzing a sizable amount of data to identify the keywords and subject matter that often convert the best. The already existing material can then be improved for performance using this information. AI can also be used to decide which content should be disseminated to different audiences and marketed to them.
In sum, by producing original, optimized content that is catered to a particular audience, AI is used to significantly improve the process of creating content. By autonomously generating content ideas, improving current material, and enhancing performance, AI-powered machines can save digital marketers and content creators a lot of time and work.
Conclusion
In conclusion, AI technology is revolutionizing the way we create content. It now allows organizations to create more content in less time and effort. AI is streamlining processes, automating content production, and helping generate unique content that captures the attention of the target audience. By taking advantage of the various aspects of AI in content creation, businesses can easily save time and money while maximizing their marketing efforts. It is now up to businesses to make the most of the AI technology.